Associate Pastor information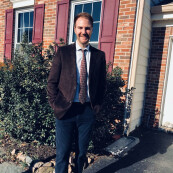 Josh Hagstrom grew up and is currently living in Herndon, VA. He is interning at Rising Hope Mission Church in Alexandria, VA. He helps lead their Sunday morning worship service, co-leads their small-group ministries, and sits on the Leadership Visioning Team of the church.
Josh previously served as IMPACT Coordinator at Pleasant Valley UMC in Chantilly, VA, for two years. He helped start a mission-focused worship service that provided supplies to local nonprofits serving the needs of the hungry and poor in the Chantilly community. Prior to his time at PVUMC, Josh served as the Director of Emergent Ministries for St. Luke's UMC for two years. He helped start a contemporary worship service, as well as new ministries to connect with the members of the local community who were previously disengaged with the church. These ministries included Upward Basketball, quarterly outreach events such as open-mic nights and volleyball tournaments, small-group opportunities for local and returning college-aged students, and monthly events for older adults.
Josh will be graduating this May from Wesley Theological Seminary with a Master of Divinity degree. He earned a Bachelor of Music degree from the University of North Carolina Greensboro.
Josh is passionate about building and sustaining healthy communities in and with local churches. He enjoys creating and facilitating connection opportunities so that members of the local church can grow and foster relationships with one another as they grow closer to God. This passion also extends to forming, nurturing, and connecting the local church with the broader communities beyond the four walls of the church building.
Josh's other interests include trying new crock pot recipes, playing board games, watching a good show on Netflix (recommendations are appreciated!), and reading a good book at local coffee shops.