Associate Pastor information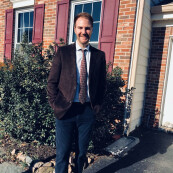 Rev. Josh Hagstrom hails from Herndon, VA and is the current Associate Pastor of Fredericksburg United Methodist Church. He is a licensed local pastor in his second year with FUMC.
Josh holds a Master of Divinity from Wesley Theological Seminary and a Bachelor of Music degree from the University of North Carolina Greensboro.

Josh is passionate about building and sustaining healthy communities in and with local churches. He enjoys creating and facilitating connection opportunities so that members of the local church can grow and foster relationships with one another as they grow closer to God.
This passion also extends to forming, nurturing, and connecting the local church with the broader communities beyond the walls of the church building.

Josh's other interests include trying new crock pot recipes, playing board games, watching a good show on Netflix and Disney+ (recommendations are appreciated!), and reading a good book at local coffee shops.