COVID-19 Response
March 27, 2020
Dear Fredericksburg United Methodist Church,
Grace and peace be with you all! Our Bishop, Bishop Sharma Lewis, has shared a letter this week urging people who have an actual case of COVID-19 to share their names with the Department of Health and with your Pastors at FUMC. As of this week, your Pastors must contact the Department of Health when we learn you have an actual case of COVID-19. This step is a way for all of us to care for our brothers and sisters in the church and in the broader community. Here is a link to Bishop Lewis' cover letter sharing this news. Contact Pastor Gina at , Pastor Josh at , and/or Pastor Jim at if you are in self-quarantine or have a potential or actual case of COVID-19.
Prayerfully,
Pastor Josh

---
Monday 3/23/2020
CLICK HERE to see the latest video from Pastor Gina concerning the Covid-19 response as well as the Monday Lenten Devotional, we want to stay in close contact with you on information and in community support.
You can also read HERE the current ways to help and pathways to continue giving and connecting with us!
---
WAYS YOU CAN HELP AT THIS TIME!
FOOD PANTRY
Working at home for a while? Home from college or high school and can spare a couple hours in between online classes Or just looking for ways to stay in community with those around us?
FUMC Food Pantry operates 5 days a week to help those in need, could use your help; which is needed now more than ever, as folks may face dwindling resources. A system of outside check-in and self-serve bagged groceries is the current operation. This takes willing hearts and people who can lift at least 25 lbs, plus feeling comfortable interacting with the public. You can pack bags alone, or move bags, load bags to a self-seve area for clients or write down client information during distribution. Follow this Sign Up Genius link to get going! Or email Trish Vaughan at .

MICAH
As Fumc and the other churches that serve Micah have gone to not providing breakfast in their buildings to lessen in-person contact in large groups, but there is a great need to help serve our friends at the Micah center. Donations of single serve, handheld food items are being requested (however Micah does not have the ability to store things long term) and assistance to pass things out and make sure all guests get what they need. Diane Cotter is our point person on this mission. Please email her to get started!
Micah has immediate needs of the following:
Bottles of water
Sanitation supplies (paper towels, Lysol/clorox wipes and hand sanitizer)
Deodorant (low on supply)
Male razors
Portable cell phone chargers
Other donation options include: Small amounts on fast food gift cards.
These can be taken to the Micah Hospitality Center : 1013 Princess Anne St, Fredericksburg, VA 22401
They are also foreseeing a need for those who are not in high risk categories to shop for food, etc. Please contact Diane Cotter (email above ) to link into this opportunity to serve!
---
Information about Online Worship:
TO LIVE STREAM our 11:00 A.M services on Sunday, March 15 and Sunday, March 22 click on Facebook News Feed (you DO NOT have to have a Facebook account to view this)
PLEASE "SHARE " this with others !
You can do this by clicking on "SHARE" in the bottom right hand corner of the video.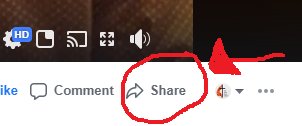 AFTER the service has concluded you may access the video at
FACEBOOK VIDEOS
---
A VIDEO MESSAGE FROM OUR PASTORS - regarding the closures affecting FUMC and where to reach out to us if you need assistance during this time.
March 13, 2020
Hello Friends,
In monitoring the COVID-19 situation and the state of emergency announced by Governor Northam yesterday and by announcement from the Virginia Conference Bishop , we have made the decision to temporarily but dramatically pare down activities at Fredericksburg United Methodist Church in response to the threats associated with this virus.
Beginning Friday, March 13 and continuing through Sunday, March 22, we have postponed all in-person worship services at the church. We will offer LIVE STREAM for the 11:00 A.M services on Sunday, March 15 and Sunday, March 22. We encourage you to join us for these services on Facebook News Feed (you DO NOT have to have a Facebook account to view this)
In addition to moving to online worship, we are suspending all other small and large group activities at the church for the next week and reassess in the coming days. During this time, we WILL have regular office hours for administrative and pastoral staff . The FOOD PANTRY will be available to continue providing our friends with nourishment during this challenging time by way of curbside pick up in our Charlotte Street parking lot.
As you might imagine, this was not an easy decision. We believe life change happens every day at FUMC. The question was how might we balance the vital ministries of the church with ensuring the health and well-being of the congregation. As this next week is Spring Break for local school districts and our FUMC preschool we were blessed to already have a somewhat diminished operational tempo.
While we are not meeting in person for this brief season, there are many ways we can continue to be in community together. Noted above, we hope you'll join us for worship online.
The simple truth is when we do not meet in person for worship, our finances take a dip. For several years many of you have given electronically. If you are not already giving in this way, please consider going to http://fumcva.org/online-access/ make your contribution to the ongoing work of Christ through FUMC. You can also simply drop a check in the mail to our church office. Your regular and consistent giving makes it possible for us to continue the work of Christ, even in these times of heightened concern.
May God bless and keep you safe in this season and always. May God continue to shine the light of love through our church to all who suffer and are in fear. Please join us in prayer for anyone affected by this virus and those working on the front-lines of care and cure, and let us give thanks, now and always, for the tremendous grace and goodness of our God.
In Christ,
Pastors Gina, Josh and Jim