Online Access Information
Why should I download our App or Login online?
I can look-up someone's phone number or email
I can see what's going on at church today
I can tithe/give today or on a schedule
I can load my photo
I can set up my pledge for the year
I can update my information/contact information

I can see my giving history or make a pledge
See below for how to's on the APP and online giving through our website
How to download our app
Our app can be downloaded onto your Android or Apple phone. Go to the App store and search for simple.church (white icon with a green tree). Install on your phone. This app has everything in one place!
Look for your login details, sent by the church or you can request them at .
Enter the Domain: fumcva
Enter your username
Enter your assigned password (which you can change by clicking on your name once you have logged in)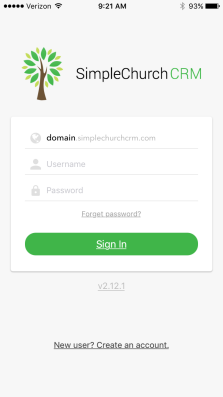 How to Give on the App
Touch GIVE in the Green bar
Enter Amount, Method (Credit Card/Bank Account)
Select Fund
Select One Time or Recurring

If Recurring set up the frequency (Set recurring gift link)

Then confirm on the next Screen (blue bars) by touching the Give Button.
How to Pledge on the APP for next year
Touch your Name below the green bar.
Touch the GIVING tab on the right.
Touch +Create new pledge

Select PLEDGE 2019
Start Date 01/01/2019 - End Date 12/31/2019
Select Frequency and Periodic Amount
Confirm Total
Touch Create on the top of the screen
---
How to Give or Pledge Online
Visit our website and click on the GIVE link on the top right-hand side.
Touch the First Time? link

(1)
Simply fill in your basic information (name, address, email, phone etc.)

Set up a password and click submit.

Your email address will become your user name when you sign in. (2)

This email address will also receive confirmations.

Give using the screen to send your gift. Or touch Give Now or Scheduled Giving to set up periodic gifts.

Your giving payment options are VISA, MasterCard, Debit Card or Bank Check/ACH ("Automated Clearing House" - the way we pay some bills).


Use the My Account option to set up your Pledge for 2019 (but giving only starts after January 1).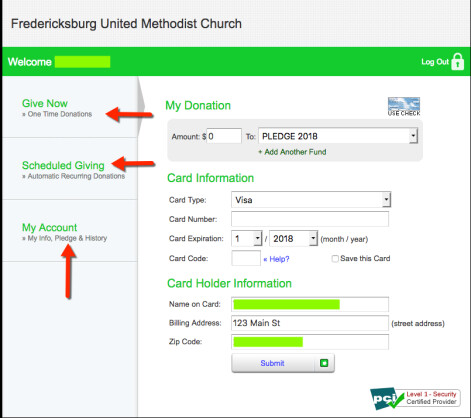 Still questions? Contact
How to login to our Information database
To see your membership information, your giving history our calendar and others contact information.
Look for your login details, sent by the church or you can request them at .
Click this link
Enter your username provided in the email (it is case sensitive)
Enter your assigned password (which you can change by clicking on your account tab once you have logged in)
You can view your details in PROFILE
Edit your details in EDIT.
View your giving history in GIVE.
Change your Password in ACCOUNT.
Look at the church Calendar using the calendar icon in the top purple bar
Look in the Directory on the side (black) menu to look up contact information for another member.
Want to make a tithing PLEDGE commitment?
Click on the GIVE tab in your profile then click on the 3 dots on the top right.
Click on + Create Pledge and fill out the box of information.
When when you tithe/give to Pledged funds, you will see your progress throughout the year.
Need Help? Contact