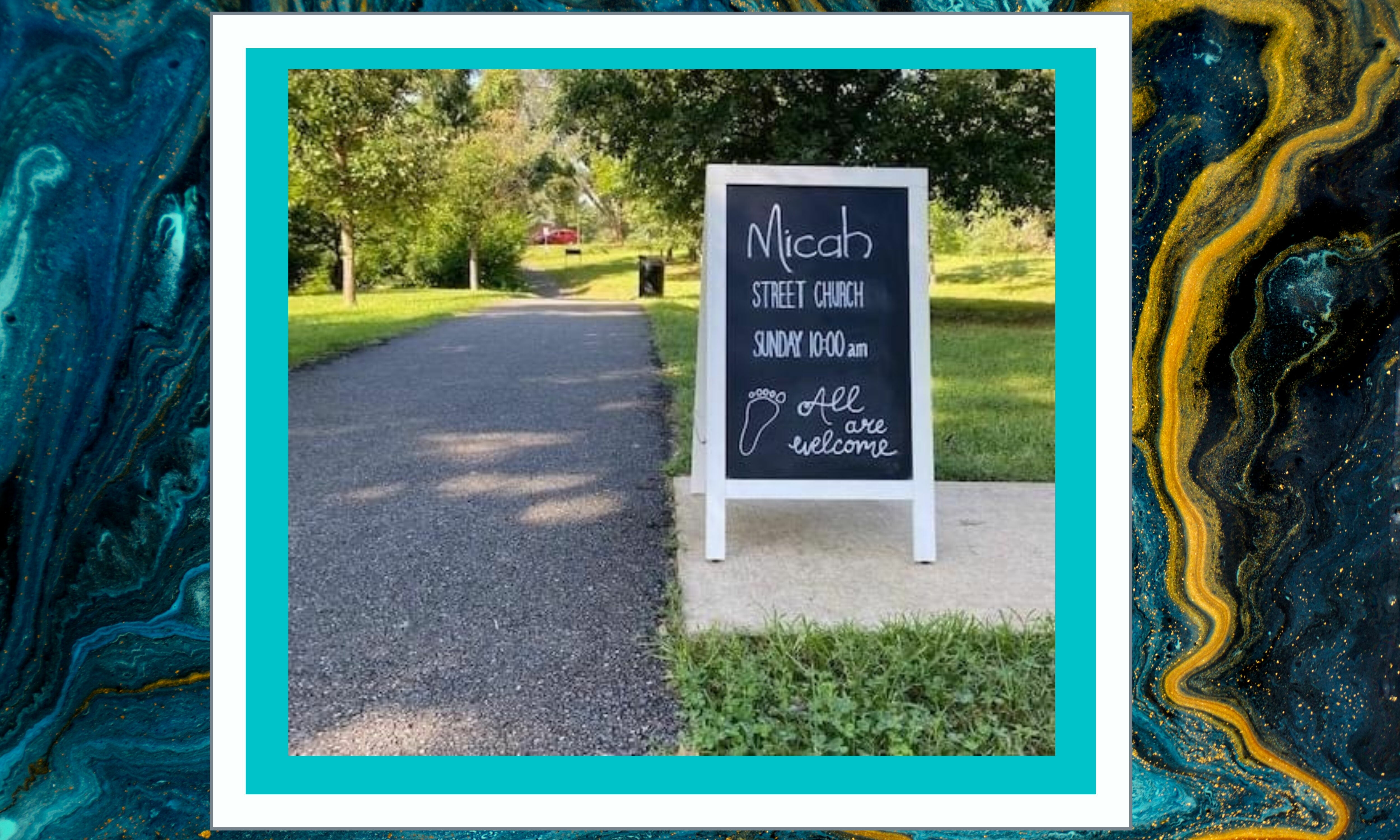 01.19.21

|

Pastor Chelsea

| by

Chelsea Morse
This summer, when the humble beginnings of Street Church began to emerge, Pastor Carey, Meghann and I (Pastor Chelsea) talked often about being tillers of holy ground. We had no idea what God had in store for this community, but what we did know was that it was our job to dig up the earth, to let it breathe, in order for sacred, fertile soil to be ready for God's seeds of grace and restoration to grow.
In a time when the world is in crisis and our nation is so deeply divided, God sends a dove, a glimpse of hope found in this sacred ritual that we can all unite behind as Christ's holy Church: Baptism. We give God all the glory for the wonderful things that are being done in our midst.
During our message today, members of the congregation were given a colorful river rock with unrefined edges. We discussed the power of water and its transformative capabilities to smooth even the most jagged of rocks. While our cuts, colors, and lines may be a little different, God's power to transform us through the Holy Spirit, poured out through the water, is a powerful image for us to take in. After the baptism, members of Street Church were invited to come up to the fount and receive a new white rock, where they could "remember their baptism, and be thankful." We are reminded that God's work in us does not stop and end in this moment, rather, we are faced with the realization that God is just getting started with us.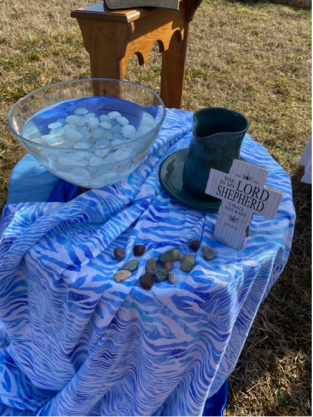 We know that Baptism is performed in community because in and through God's witness, we make a covenant with one another to reject the forces that hold us back and to encourage one another when the road still feels unsettled. In a lot of ways, this ritual is a spiritual birth announcement and an opportunity to be welcomed home again.
For our people, this experience may feel a little familiar.
Re-homing, a word we have often used to describe what it takes to help people overcome, not just literal homelessness, but spiritual displacement as well. Baptism takes us back to the original image God created us to be and recognizes that even though we have fallen in the past and will fall in the future we can recommit ourselves in baptism to a life that honors God's original hopes for our creation and we are not alone in that pursuit. Like many stories in the Bible, we too get "evicted," wander in the wilderness and try over and over to get back to the home God has promised us. Remembering our baptism reminds us of God's intent for our lives and gives us hope that all of God's original promises are possible.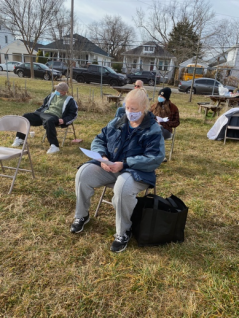 For Sue, our first Baptism candidate, re-homing has been going on for quite some time.
She's been through a couple of different housing situations since she originally became homeless back in 2016. She recently moved into a place that is both affordable, safe, and stable. Key players that have accompanied her on this journey were Jim and Jeanne Vaught, members of Fredericksburg Baptist. Jim is a local pastor and Jeanne is retired from Mary Washington Home Health. Even when Sue has had rocky moments these last few years, they were a force of stability and community that kept her going.
Street Church has built upon that community, opening up new relationships, giving her a place that she can invite others. We've even had the pleasure of having her friends and family who live far away attend virtually.
"When I was a child, I never missed a Sunday. My mother was Catholic and my father was Methodist. She took me to the Methodist church every Sunday. It wasn't until I moved here 20 years ago that I learned that I had never been baptized," Sue told us. She said that street church has been an important part of her spiritual journey. Her prayer was that the journey continues.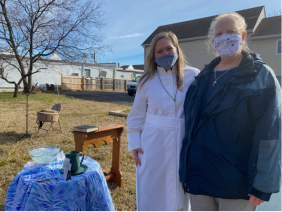 Sue often cries in talking about what street church means to her, and I'd wager to say the emotion we are experiencing has a lot to do with a part of herself and her story that she is finding again. When she looked back and remembered what it means to be that precious creation of God, her baptism is something that was missing. God made that part of her story complete today.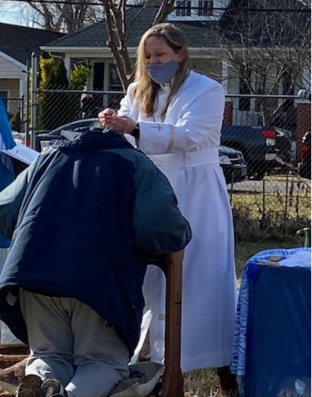 We are grateful for the ways that God has been shaping and forming this community for the streets and the whole body of Christ in Fredericksburg. God has been using us all as laborers in the vineyard, tilling up the land to prepare fertile soil for Street Church to occur on this holy ground so many years later. From the welcoming community dinners (that we long to go back to), to opening your churches and resources to help support our day-center, cold weather shelter, and other programs; your churches have been the example and foundation of love and support that we are building this church on. You have created a safe place for our neighbors to know the Church is here to love and not condemn. We could not have arrived at this moment without the help of God and our church's unwavering support.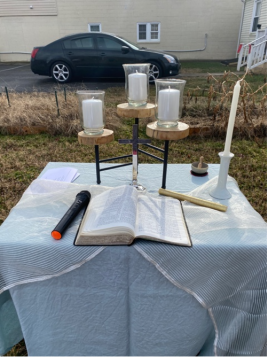 Many of you know this is my first appointment in the United Methodist Church serving in extension to Micah. As a novice pastor on the streets of Fredericksburg, it was my great honor to walk alongside Sue and perform my first Baptism as a clergyperson. There was something so incredibly powerful in feeling God's holy presence in that sacred moment. I will hold on to that memory for the rest of my life. In a lot of ways, it was an affirmation for my own vocational discernment, and I too felt like I was home. I continue to give thanks to God for the privilege to walk on this road with these amazing people who have stories that will make you laugh and break your heart. I hope you will continue to travel on this road with us and see where God leads. There is still a lot of lands to cover. Thanks be to God
If you would like to watch the video from the worship service, click here: Facebook Live Stream from this past Sunday, January 17, 2021.
Rev. Chelsea Morse
Pastor at Micah Street Church