Children
Welcome! Our goal is to help our children become true disciples of Jesus Christ by building relationships with them, being examples for them, and teaching them God's Word.
At Fredericksburg United Methodist Church we strive to do that by offering a variety of activities to get children excited about Christ! If you have any questions about our children's programs, please call our Director of Children's Ministry, Jillian Murray. Also, follow FUMC Children's Ministry on Facebook for up-to-date information on all things kids-related. Come join the fun as we learn and praise Jesus!
Sunday School
Come join us at 9:45 am on Sunday mornings for a full group "Chapel time" , then following we break into grade-level classrooms. Classes for Pre-K through 5th grade.
Drop off starts at 9:40 am on the lower level of the church, in our Preschool Commons area.
Pick-up is at the classroom door promptly after the 9:45 am worship service; Pre-K and K/1st grade is on the lower level, 2nd/3rd and 4th / 5th are on the 2nd floor in the corridor to the right of the elevator.
SEASONAL EVENTS & PROGRAMS
Vacation Bible School
Join us for an in-person VBS at FUMC! "I Wonder" is an exploratory, fun, and imaginative four-day curriculum, which asks the questions: "Who am I, and what does God want for my life?" This year we are offering two options:
a daytime drop-off program from 9:00 - 11:30 a.m. and a family event with both kid and adult programming from 5:30 - 7:30 p.m.
Volunteers are needed for both sessions. Make sure to list each child on the form.
A staffed nursery will be available for volunteers.
To volunteer or for any questions, email Jillian Murray, Director of Children's Ministries at


Advent Adventure
Each year we have a program called Advent Adventure. A joyful and festive time of Christmas crafts and activities for kids and their families. In 2020 we enjoyed a modified at-home program with videos and take-home crafts!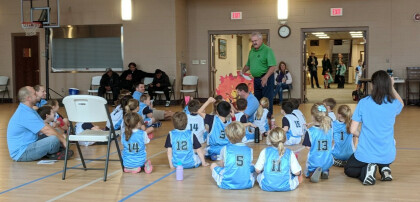 Upwards Basketball - Winter
Fredericksburg UMC offers Upward Basketball for girls and boys in grades K-6th grade. Enjoy a great team experience and play ball with your friends in a supportive, Christian environment. It is not only a sports program but a Christian model for sports. We are so thankful for all the families that have signed up and the many others that volunteer their time to make this program special.
Covid-19 update - Unfortunately, we determined that we could not offer a 2021 season. We are saddened by this but hope you will return next year!
Email us at
KIDS WITH PURPOSE - Spring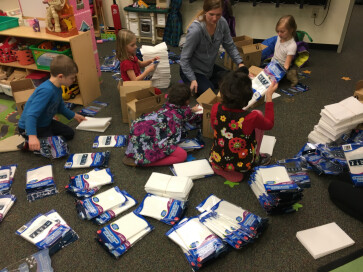 Our children's mission program, Kids With Purpose ties biblical learning with hands-on mission work. Children grades K through 5 are invited to participate in this fun and meaningful hour-long weekly program. Our new season of Kids With Purpose begins in January and runs for eight weeks. There is no cost or registration required to participate - just come and check it out! Organizations that Kids With Purpose has partnered with in the past include Micah Ministries, Fairy Godmother Project, UMCOR, Hope House, FUMC Community dinners, and more.
Camp Westview on the James Scholarships - due in the spring
More information about the summer camp is located
here
or brochures located in the church office or from the Director of Children's or Youth Ministries.
This year 2021, we are excited to host a 4-week outdoor fitness club focused on games and different sports!
This will be on Wednesday evenings from 6-7 pm
Social distancing, as well as mask-wearing(unless distanced outside), will be required.
Associated Ministries: