Children
Welcome! Our goal is to help our children become true disciples of Jesus Christ by: building relationships with them, Being examples for them and teaching them God's Word.
At Fredericksburg United Methodist Church we strive to do that by offering a variety of activities to get children excited about Christ! We offer ongoing Christian education in the way of Sunday School, Wednesday night classes, vacation Bible school, special interest groups, children's choirs, and seasonal events. If you have any questions about our children's programs, please call our Director of Children's Ministry, Jillian Murray. Also, follow FUMC Children's Ministry on Facebook for up to date information on all things kids related. Come join the fun as we learn and praise Jesus!
Age-Groups
Nursery/Toddlers
Preschool - 5th Grade
Check us out on Facebook! Click here to visit the FUMC Children's Ministry page, and follow to stay up to date with the current activities!
Child Protection
As we start the new year for children here at Fredericksburg UMC, we want to be sure that we are keeping our children as safe. This is a large building with hundreds of people in and out each day. Remember that ALL children under sixth grade must be accompanied by an adult at all times. You must walk your child to and from Sunday School. Also any groups of children must be supervised by two adults. This is not just a way to keep them safe, but is part of our child protection policy and connected to our church's insurance policy. Please register your children for Sunday School. If you are in the master roster, you can just check for changes and initial instead of filling out another form. When you do this, you will be asked to list allergies as well as all people who may pick up your child. Teachers will quickly get to recognize the parents, but as this familiarization occurs you may be asked to show ID. Please be patient. We are making sure that we protect our children.
Children Music Ministry (coming soon)
Sunday School
FUMC Children's Ministry holds weekly Sunday School for kids ages preschool - 5th grade during the 9:45 Contemporary service hour. For 2018-2019, we are using Group Publishing's "Digging Into Discipleship" curriculum, which brings a fresh approach to building a lifelong relationship with God.

We meet in the preschool common area for an opening worship time, which includes monthly communion, prayer and offering, plus a devotion on our weekly lesson. Games, object lessons, videos and crafts are utilized in different ways each week, to reinforce each bible point, and to keep the kids engaged and having fun!
SEASONAL EVENTS & PROGRAMS
Secret Pals

This September, we are launching a new inter-generational program designed to help build relationships between kids and adults at FUMC. Secret Pals is a six week pen-pal program, where kids and adults write weekly letters and cards back and forth. The reveal will happen on October 20th at our church wide picnic at Old Mill Park!
Advent Adventure - the first Wednesday in December each year
This year's Advent Adventure will be on December 4th from 6:00 - 8:00 p.m. There will be several make and take stations based on the "Symbols of Christmas." This is a free event and no registration is required. Families are encouraged to attend together and rotate between each station.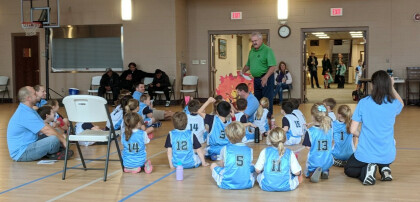 Upwards Basketball - Winter
Fredericksburg UMC offers Upward Basketball for girls and boys in grades K-6th grade. Enjoy a great team experience and play ball with your friends in a supportive, Christian environment. Over 180 excited and energetic children participated in this program in 2018! It is not only sports, but a Christian model for sports. We are so thankful for all the families that have signed up and the many others that volunteer their time to make this program to special.
KIDS WITH PURPOSE - Winter/Spring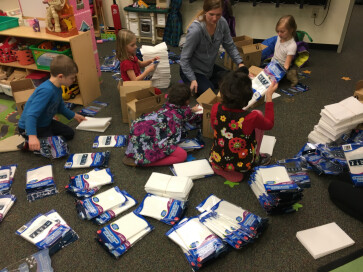 Our children's mission program, Kids With Purpose ties biblical learning with hands-on mission work. Children grades K through 5 are invited to participate in this fun and meaningful hour-long weekly program. Our new season of Kids With Purpose begins in January and runs for eight weeks. There is no cost or registration required to participate - just come and check it out! Organizations that Kids With Purpose has partnered with in the past include: Micah Ministries, Fairy Godmother Project, UMCOR, Hope House, FUMC Community dinners, and more.
Camp Westview on the James Scholarships - due in the spring
More information about the summer camp is located
here
or brochures located in the church office or from the Director of Children's or Youth Ministries.
Running Club
In spring each year, the children gather to run together and train for the Great Train Race (held each year on the 1st Sunday of May. It is a great way to spend time together and get healthy too!
Vacation Bible School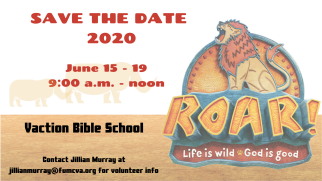 FUMC hosts a dynamic and educational VBS each summer. We spent the last week of June on an African safari and learning about God's goodness. Our 2020 VBS dates are June 15-19, 9:00 - noon. Plan early and consider volunteering during this amazing week!