Youth
UMYF (United Methodist Youth Fellowship)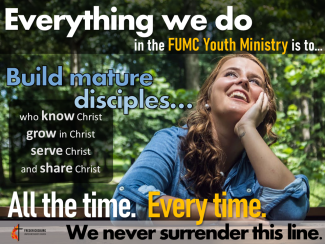 Youth group is a fun way to spend time together - sharing in Christ through discussions, activities and some being downright silly at times too.
To see what youth is up to this year, please be sure to get on the email list by contacting David Carryer at .
Find our registration PDF Registration forms here.
Please fill these out and email back to David, drop off at the church office for his mailbox or mail them back to the church (308 Hanover Street, 22401) with Attn: David Carryer and they will make their way to him.
We also have an active Facebook page that is a great place to plug into what is going on. Join or just check it out by clicking here.
Join us this year as we seek new ways to show God's love using our hands and feet.
Our goal is to provide an open atmosphere where students can know that they matter. Where students can be honest, open, heard, accepted, and equipped to live as a light for Christ, no matter what the cost!
Youth Schedule

(all in-person classes have been suspended till the church can reopen, please find our current ZOOM class and chat times by clicking on the above link for the Facebook page)
During the School year, Sunday School meets during 9:45 Service
High School Meets downstairs in the Youth Room
7-8th Grade Meets in room 219
6th Grade Meets in room 207