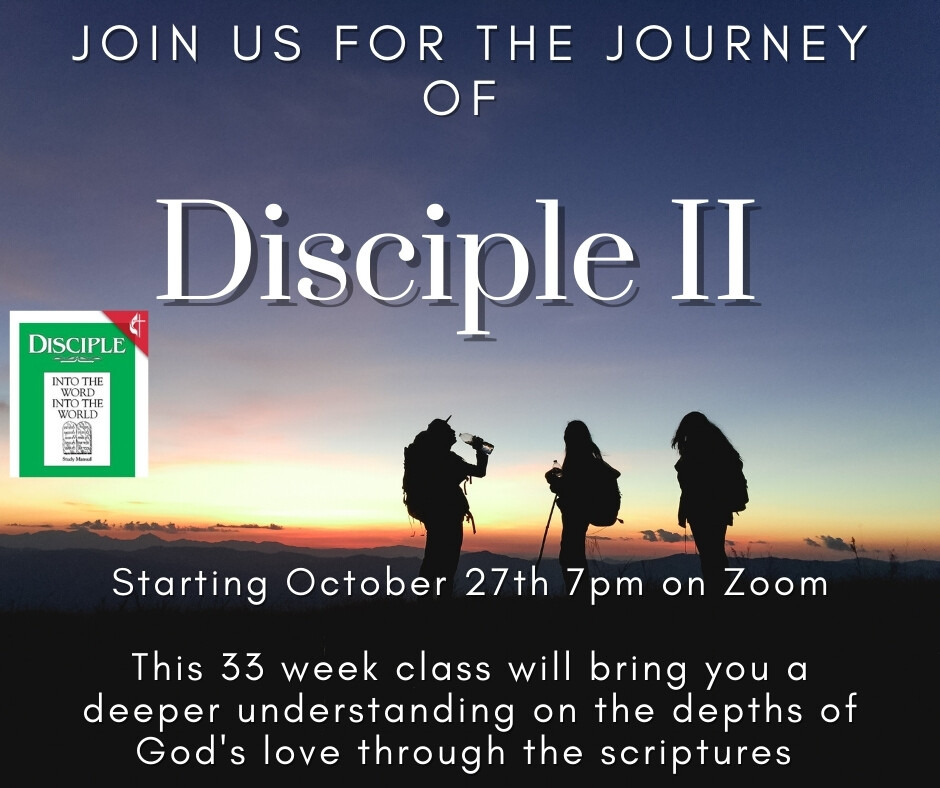 Thursday, October 08, 2020 - Tuesday, October 27, 2020
Cost: $40.00
SIGN- UP TODAY for this 33-week intensive which seeks to give you a deeper understanding of God's love for us through the scriptures!
Email to get signed up and order the book!
Have you heard that it takes 21 days to form a habit? If that is all it took we would probably keep all of our New Year's resolutions, zip through our daily TO DO lists, drink lots of water, and have an exercise routine that would make the most devoted gym rat jealous! Turns out it takes about 8 months for complex behavior to become a habit.

Would you like to make delving into the Bible every day a habit? Those who read the Bible daily report being calmer, solve problems faster and more creatively and have an overall sense of well-being. Who couldn't use that? Disciple II will meet once a week for 90 minutes for 33 weeks and is a deep dive into the Bible. Travel along with members from FUMC and beyond for this exciting and meaningful journey into the Bible led by Vera Stevens. The start date for this is Tuesday, October 27th at 7:00 pm and will be on ZOOM! The cost of the companion book is $40.00.

Please indicate your interest by writing to so that your book may be ordered! We can emerge from these times stronger, more fortified, and deeply rooted in our faith. Come join your church family on this Bible adventure and invite a friend.