Nov 17, 2019 | Rev. Gina Anderson-Cloud
Tithing Generously week 2
Last week we heard affirmations from Jesus about giving from one's poverty as Pastor Josh shared the story of the widow who gave generously of all she had. This week, we look to the story of Jacob who establishes a place for worshiping God and makes a vow to offer back 1/10 of all he has back to God there. These stories of faithfulness can seem like "old" examples that no longer have application or relevance. However, Jesus did affirm giving in the system of the tithe (10%), spoke against the evils of loving money more than God, and through the word of the Holy Spirit, prompted the early disciples to establish ministries in the church based on the concept of giving generously with tithing and in sometimes offering all to the work of Christ.
Today, consider how God may be calling you to faithfulness in generosity. Tithing and giving are spiritual disciplines established from Old Testament to New Testament times as a means of practicing trust and obedience to a God who gives us everything. To reach a goal in true generosity, it takes planning and sometimes incremental steps. God is never dissatisfied when we try to be faithful, and God certainly understands financial commitments and obligations to family. However, our task is to consider working with
God's Spirit to discern ways of offering up our blessings in generosity so that our hearts are drawn to faithful living in all things. Our Wesleyan heritage calls us to "earn all you can, save all you can, and give all you can." May God bless you as you discern this matter of faithfulness.
Series Information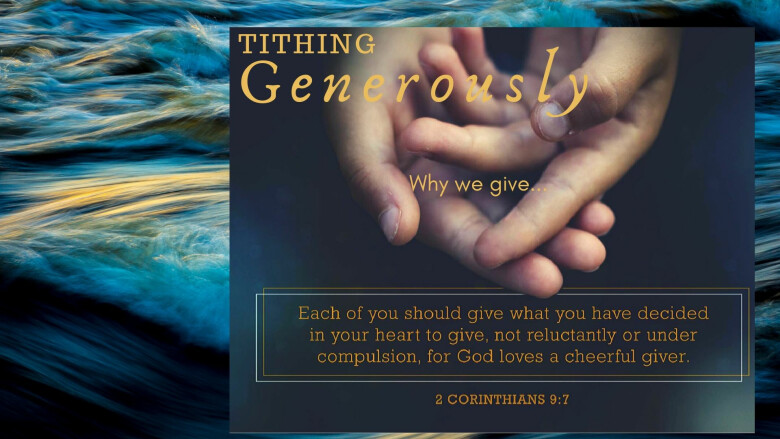 This year our Generosity Team working with our Finance Committee and pastors decided to take a simple approach to our fall generosity/stewardship campaign and focus on our call to give through tithing. Over the next two Sundays, we will revisit God's call to give of our finances as part of our spiritual life. Pastors Gina and Josh will share the basics, while introducing a church-wide focus on tithing targeted for our Lenten Season this coming year, in what we will call "The 90-Day Tithing Challenge." This is a time to reflect on your giving patterns and use of resources, as well as God's call to you in faithfulness to generosity.