Pastoral Care
Sick? Going to Hospital?

If you are hospitalized, planning surgery, or have become ill, please contact the church office at 540-373-9021.
If you have an urgent situation, please call or text our pastoral care line at 540-388-0012 or call the church office number and respond to option #3.

If you are going to the hospital, please let us know the date, time, and hospital where you will be receiving care. Due to HIPAA regulations, the hospital or chaplain providing care will not automatically inform the church of your hospitalization.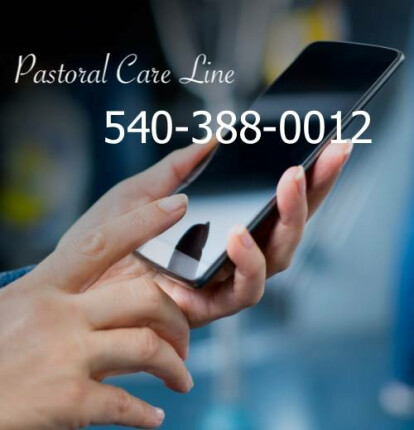 Do you need Prayer?
Fredericksburg UMC is a caring community of people who love God and all those made in God's image. We embrace those who are hurting, and we walk with those who are in crisis as well as those who simply need a friend. We don't have all the answers, and we don't have it all together, but we attempt to live and love like Jesus. Like Jesus we recognize that we are all lost until someone finds us and calls us by name.
Life and its stress tends to make us forget that we are children of God, and that we are lovely and loved. When you're struggling to make it through the day; you're overcome by shame; you're tired of putting on a face and faking it; when you haven't laughed in far too long and you can't keep going, please reach out. Our team of caring individuals is here to remind you that you are precious and beloved – that your name is written on the palm of the Creator of the Universe.
Walking alongside you through your pain – in whatever form it takes – is our honor and privilege. Pastoral care is about sharing life together and growing through the experience. Fredericksburg UMC seeks to show the love of Jesus Christ through spiritual, emotional and physical support.
Who needs pastoral care?
The one wrestling with an overburdened under-balanced life load
The one in pain – physical, spiritual or emotional
The one who is lonely and without a support network
The grieving
The confused
The forgotten
The one whose family has fallen apart
The exploited and abused
The one who is lost
If you would like to send a prayer request or private message online, fill out the form below and click "send". It will be received by a member of the pastoral staff and you will receive a response if you request it.
He comforts us in all our troubles so that we can comfort others. When they are troubled, we will be able to give them the same comfort God has given us. – 2 Cor. 1:4
---