Children
Welcome! Our goal is to help our children become true disciples of Jesus Christ by building relationships with them, being examples for them, and teaching them God's Word.
At Fredericksburg United Methodist Church we strive to do that by offering a variety of activities to get children excited about Christ! If you have any questions about our children's programs, please call our Director of Children's Ministry, Jillian Murray. Also, follow FUMC Children's Ministry on Facebook for up-to-date information on all things kids-related. Come join the fun as we learn and praise Jesus!
Check out the highlights reel of Children's Sabbath 2022!

Sunday School
Come join us at 9:45 am on Sunday mornings for a full group "Chapel time", then following we break into grade-level classrooms.
Classes for Pre-K through 5th grade.
Drop-off starts at 9:40 am on the lower level of the church, in our Preschool Commons area.
Pick-up is at the classroom door promptly after the 9:45 am worship service; Pre-K and K/1st grade is on the lower level, and 2nd/3rd and 4th / 5th are on the 2nd floor in the corridor to the right of the elevator.
SEASONAL EVENTS & PROGRAMS

Vacation Bible School
Join us in the summer for this fun program! Next summer's dates are to be announced in the spring!


A staffed nursery will be available for volunteers.
To volunteer or for any questions, email Jillian Murray, Director of Children's Ministries at

Upwards Basketball 2023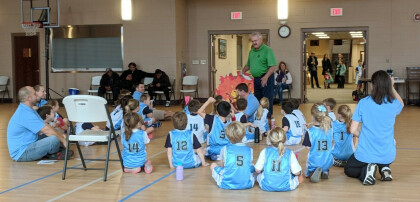 We are super excited to be starting a new season (2023) of Upward Basketball in January!
if you missed registration for the 2023 season, we hope you'll join us next year - watch for registration to open in October of 2023.
Our program is for K5 - 8th and all teams are co-ed.
Each team will practice for an hour during the week and play a game on Saturday.
Enjoy a great team experience and play ball with your friends in a supportive, Christian environment.
It is not only a sports program but a Christian model for sports.

Whether you have a child playing in the league or not, we would LOVE your help with the program.
We are so thankful for all the families that have participated in the past and the many others that volunteer their time to make this program special.
There are so many ways to help from planning the end-of-season party to coaching/refereeing.
Email if you are interested
Camp Westview on the James Scholarships - due in the spring
More information about the summer camp is located
here
or brochures are located in the church office or from the Director of Children's or Youth Ministries.
Associated Ministries: