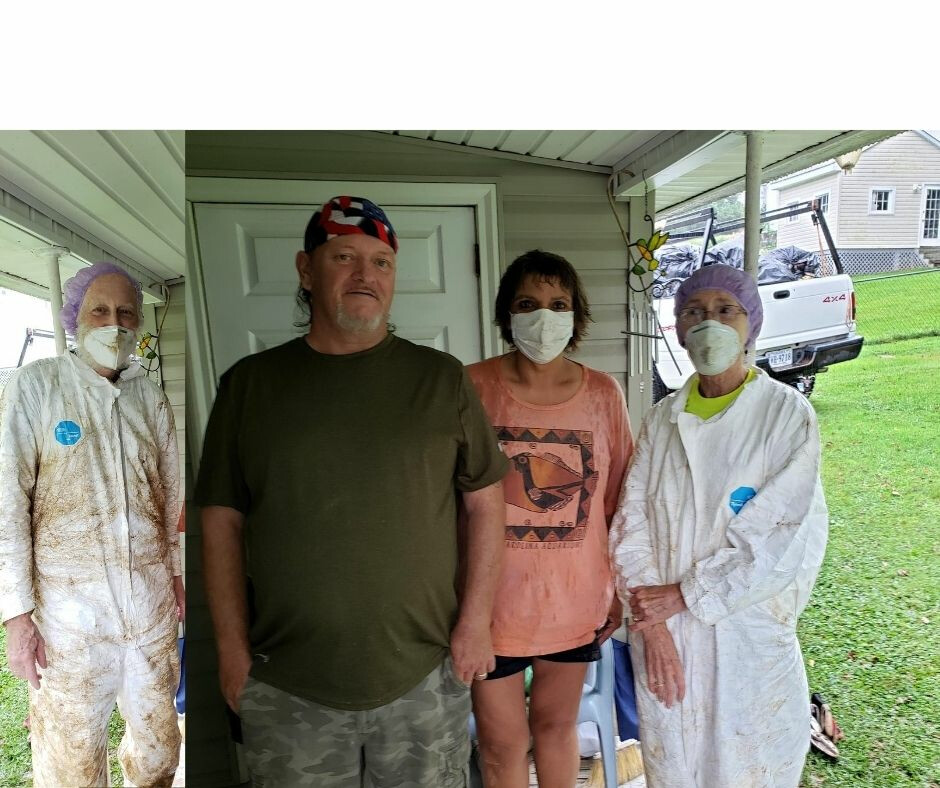 09.02.20

|

Stories

| by

Bill Botts
On Monday, August 31st Bill and Sue Botts were blessed with the opportunity to make a one-day Early Response Team(ERT) work trip to Staunton to help George and Yvonne, whose home was flooded by the remnants of Hurricane Isaias, which dumped 5 inches of nighttime rain in 2 hours on August 8th. George and Yvonne live in a small home in a low-lying area of Staunton. When the rains came, their hand-dug, dirt-floor basement and crawl space was flooded up to within 2 inches of the first-floor floorboards. Water from the hills above the home had no place to go when the storm sewer drains on the street in front of their home became clogged with debris. Their basement HVAC system and water heater and washing machine were all destroyed as was Yvonne's car, which was tossed about by the flood waters.
A local ERT coordinator assigned them to remove the soaked fiberglass insulation from the ceilings, the insulation from trunk lines of the HVAC ductwork, and the water-filled flexible branch lines running from the trunk lines to the first-floor registers. The main basement was 6' high but the crawl space area was only 2' high and we had to work on our backs in that area. At the end of the removal process the dirt floor had become a muddy slippery mess despite using 5-gallon buckets to catch falling water. Yvonne, who had taken off from her Western State job for the day, helped them carry the heavy garbage bags full of water-soaked debris up the wooden basement steps into the backyard, where George's pickup was parked. George helped load the bags even though he was on a lifting restriction following a 15' fall in June from a ladder onto a masonry wall that shattered multiple ribs, punctured a lung, cracked two vertebrae and hospitalized him for a few weeks. He owns a small home renovation business specializing in installation of seamless metal roofs, vinyl siding and vinyl windows. His craftsmanship was apparent when observing other homes in the neighborhood that he had renovated. He has been unable to work since June and is without replacement income. Most of his medical expenses were covered by Yvonne's health insurance through Western State, but their homeowner's insurance did not include flood insurance.
After George and Yvonne treated them to lunch from a local Subway, they returned to the basement to spray all surfaces with Shockwave, an EPA-registered cleaner used for flooding and mold remediation as well as a disinfectant in hospitals. Before leaving they exchanged contact information and agreed to follow up with each other.
As they were driving out of Staunton, they felt that we needed to do more. Someone had already donated and installed a hot water heater, but George and Yvonne lacked a washing machine and a dehumidifier. After getting Jeff Kaiser's permission to do so, they stopped at Lowes and bought a gift card for those two items and turned around and brought it back to George and Yvonne. Their greatest need now is a new HVAC system before the weather turns cold; it will cost $5,500.They will be in contact the disaster response coordinator and George and Yvonne's home church, Christ UMC in Staunton, for guidance on how to help with that cost.
Would you like to get involved in the Early Response Team?