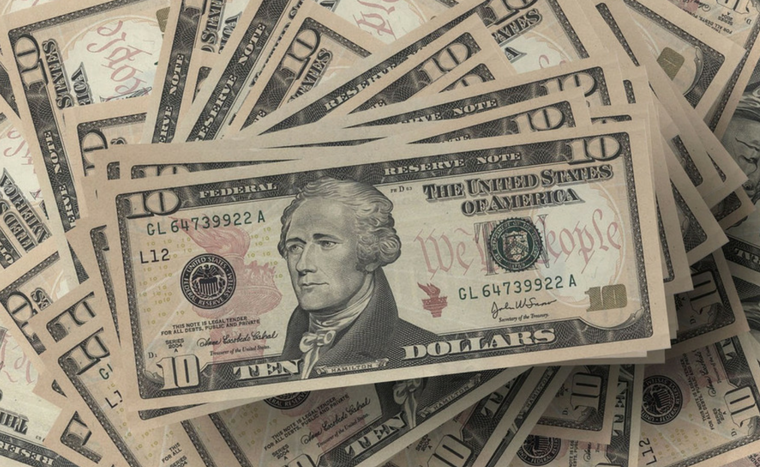 10.22.17

|

Stories

| by

Fredericksburg UMC Members
Ignited by our sermon series on practicing extravagant generosity. Read how our members were inspired after receiving the $10.

The sermon on practicing generosity inspired me to take a hard look at myself. For the past 6 years I have used my talent of monogramming as a hobby. Although I earned some money, I always used it for the kids or a special outing. My husband has encouraged me in the past to donate the money but I always shrugged it off as "one more thing to keep track of. Then about a month ago I read daily devotions on using gifts God's given us to help others. It really made me stop and think: What are my gifts and talents? I realized mine is my ability to create. But even after reading 1 Peter 4:10 I still put it off because I was just too busy. God was faithful in His push for me to be better. During your sermon, I was given $10 to do the exact thing I was trying to avoid. So for the month of October I kept track of my side hobby and will donate the profits to Fredericksburg UMC! Thank you for the inspiration.
I have dispatched the $10.00. Prayed, got an additional sum together and donated it all to the Bible League for Bibles being sent to Asia. The Bible League matched the gift and the result is that 60 Bibles will be distributed as a result.
I am the Executive Director of a non-profit in Nashville, TN. We received $20 as a gift from your church's giving challenge. We disciple married couples through Christian premarital and marital counseling which we offer at no cost. I wanted you to know your church is making a difference here in Middle TN.
We decided to provide all the requested items on the lists to be distributed to those in need affected by the hurricanes in Puerto Rico, Florida and Texas. We put the $10 gift from you towards filling four buckets of the requested items that are going to the victims of the hurricanes.
We three took the easy route and doubled ourselves!
My mom, aunt and I combined to make $30 & put together a flood bucket. We had some $ left over, so we bought food for the FUMC food pantry.
I matched dollar for dollar for donations to the food pantry.
I'm a 10-year-old kid who took the money you gave me and I gave my six dollars allowance to buy food for the pantry for the church.
I posted the following on my Facebook page. Just heard from the Methodist Church in Nigeria. They are contributing to their efforts to end nuclear arms and to their work towards human rights for Palestinians. Waiting for more responses.
I was one of the people you mentioned would get stressed out over what to do with our $20 ($10 x 2). I decided to make it a family project and discuss it with our 3 sons during dinner. They came up with all kinds of ideas!! We landed on purchasing 20 boxes of cereal for the food pantry restock drive they are having at school. The thought behind it was to help as many people as possible; however, what it quickly turned into was a competition. What they hoped would happen is when the other students saw them carrying in 20 boxes of cereal, it would spark others to GIVE GENEROUSLY as well.
I have a dear friend at work who is going through a difficult time. She filed bankruptcy a couple of months ago. Her husband lost his job and is having a lot of medical problems. Her younger daughter is also having medical issues. Most recently, her landlady has decided to sell the house they have been living in for over 30 years so she is trying to find a new home/apartment which they can afford on her salary. Despite all of this, she still maintains a positive attitude and turns a negative situation into a positive one. I wasn't sure if she would accept the money. Even though she is going through a difficult time, she doesn't want handouts. I took the advice from a mutual friend who suggested that I explain that the money is a gift from my church to use however she wants. After assuring her that the money was a gift from the church, she gladly accepted it.
The Wayfarer class has put all their money together to host a Wednesday night dinner. All proceeds will go to UMCOR.
We added the $20 to a contribution for Hurricane relief.
I thought of several things – but decided to double the $10 and give it to the Methodist Men's project at Virginia Beach.
While grocery shopping I noticed an elderly lady using a cane to walk. I offered to buy her groceries. She told me that she had lost her husband years ago and had hip and knee replacements and now has stomach cancer. That gesture was the nicest thing anyone had ever done for her. What a great feeling! God is good!!
I purchased food for a homeless man that my husband knows.
I created a shirt and sold it for a little boy's birthday shirt.
Used the $10 along with the $15 yarn money I won this month to purchase yarn to create two prayer shawls.
Gave the money to a knitter to produce a prayer shawl which will be given to someone in need.
Our family made four flood buckets with our $30.
My husband, our son and I pooled our money and purchased items for boxes sent to our troops through Blue Star Mothers. We bought nail kits, q-tips, propel and crystal light drink mixes, and playing cards. We know the troops will appreciate them.
A member gave me their $10. This will help me to get a roast for two families. I give them food throughout the year. When I get the food together for the Thanksgiving meal bag. My two bags go to these two families. It will mean a lot to them.
Each year since Ellie's death, our family celebrates her birthday in January by getting together and doing something for a charity. Last year we decided to do hope boxes for Hope for Appalachia Mission. They decided to participate again this year but upped the challenge from 120 boxes to 400. September they collected toothpaste for "September Smiles". Now we are onto "Socktober". Many members of the Sunday School pooled their $10 gifts to buy socks for this Mission. We were able to buy 80 pairs of socks!
We loved your $10 challenge. I have constructed two cardboard boxes to put in my lobby at my office for a coat drive for the winter. Will let you know how the collections go.
We decided to commit to a contribution of the amount of our best performing stock for the 3-week period. In addition, we added the $10.00 that each of us received. We are always glad to return a tithe and more for what God has assigned to us.
Many in class donated their $10 challenge funds to help fund a "homeless go to kit" for when we encounter someone in need in our church or community. We plan to ask Meghann Cotter to attend an upcoming class to give us updates on Micah Ministries and how our class can assist with the kits.
Our Family's response to the $10 challenge: $150 donated to Heifer International (the amount needed to buy 1 lama or alpaca) - but we donated under their matching program so it is really $300 going to West Africa! While we were struggling with how to respond, the Heifer catalog came in the mail and the kids thought it would be great to buy some chicks for $20. They did some chores to add a few more dollars to the initial $10. They asked for contributions from others at their neighborhood fun run. They also asked their grandparents. We agreed to match any donations the kids made (it was fun for them to learn that if they donated $5 - and we made it $10, it would then become $20 thanks to the West Africa Match program that Heifer was running.) They donated enough to get to the $150 level because they wanted to buy an alpaca! Thanks to the match, it's enough for two alpacas. Thank you for this amazing exercise in generosity. It was wonderful to watch our kids stretch themselves in order to help others!
We donated the $10 to Alzheimer's Disease Research which was matched so that it received $20. Thanks for the challenge.
Our family pooled our money and matched it to bless the people Thurman Brisben Center. Our grandkids gave juice boxes for the children there.
$50 sent to UNICEF for Mexico Earthquake Relief.
I want this to do anything to help any child in any way possible. I believe children are very important.
I contributed my $10 to fill poufs with comfort items for individuals receiving chemotherapy.
Invested $10 and made 50% so here is $15.
We would like our money to go to UMCOR for Puerto Rico.
I did a bake sale at my company and made over $100 for UMCOR.
My daughter and I baked our famous chocolate chip cookies and cinnamon biscuits. She took them to work and sold them. People were wonderful and donated money so she could give money to UMCOR to help with natural disasters. It was great to hear people talking about what they could do to help others with the $10.
$10 Challenge – "Pink Streak" for American Cancer Society. Joint gift with Faith and Fellowship Class to UMCOR.
My wife and I know a waitress who recently had surgery and is the sole support for her husband (disabled) and 2 sons. We gave her a $20 tip.
I made chocolate caramel apples and sold them to my awesome co-workers. FUMC Preschool ladies rock.
Combined money with others in SS Class to provide Legos, puzzles and other items for children at Thurman Brisben Center.
In Luke's parable of the talents (Luke 19:11-26) the good and faithful servant returned the master's entrustment tenfold. So from the $10 bill, here is $100 to UMCOR for relief for Puerto Rico.
10% interest for the time I had the $10 per day.
Gave to a homeless person.
My husband and I combined our money and doubled it to purchase food items that are not usually found at the FUMC Food Pantry for distribution: toothbrushes, toothpaste, hand soap, etc.
Told others and they wanted to be a part of it. Purchased first word board books (3) for parent education – infant development program. My in-laws attended that first week and returned home to West Virginia to pay it forward. They were very inspired!
We called the SPCA and found they were in need of dog food. So we added to our $10 and purchased two large bags of food and dropped them off for the dogs.
Multiplying the gift and returning God's money to be put back into the FUMC general fund.
We added the $10 to our purchase of toys and clothes for the Santa Train. The Santa Train gives toys to the kids of Appalachia every year. The train runs once a year and has since World War II.
My response to the $10 Challenge was to talk to others about it. This led me to share information about the UMCOR cleaning kit buckets. I collected $250 plus the $10 from the Challenge, enough for four cleaning kit buckets.
The $10 motivated me to fill a flood bucket.
Old friends have a grown son who was in a horrible car wreck. He needs constant care and therapy. The $10 Challenge coincided with a fund raiser for the family at our former church. I supplemented the $10 and sent a contribution.
The V foundation which supports cancer research was matching donations. I donated $20 so that made a $40 donation.
Our family combined our money and contributed more to purchase dog food, cat food and dog toys for the Fredericksburg SPCA.
I added money to the $10 and donated items to the animal shelter.
Like the servant who multiplied his talent – I served on a jury and was paid $30. So I am returning the $10 + $30 to for our church.
Bought yarn, crocheted caplet, sold caplet for $25. Bought supplies for crafts and donated to FUMC Bazaar.
The challenge motivated me to visit a handicapped man in Fredericksburg Nursing Home and take flowers but then I returned the original money.
The church motivated me to do non-monetary good deeds to several acquaintances who needed help. Then I returned the $10 plus more.
Pooled mine with Wayfarers to hold a "good-will offering" Spaghetti dinner in January. Proceeds go to UMCOR.
Our family decided to give the money to the Mansfield family. Melissa, a beloved co-worker and teacher at Battlefield Middle school passed away recently from a long battle with cancer. Our school family is pulling together donations to pass on to her family for meals and expenses in the tough days ahead. We felt that combining the church's gift with our own contribution was the best way our family could provide for this very hurting family.
Our $10 went to support a young boy raising money for a college fund.
I gave my $10 to a needy gentleman. He felt blessed.
We decided to donate to the Fredericksburg Area Food Bank. Our donation will provide at least 20 meals for local families in need.
A 12-year-old boy who attended our local middle school last year was hit by a car while riding his bike. He died a week later. We decided to use our $10 along with some of our money to make a donation to help his family – who could not afford a funeral.
We decided to add $80 to our combined $20 Challenge and write a check for $100 for use by the FUMC Food Bank.
We donated gift subscriptions of Guidepost Magazine to veterans and members of the US Armed Forces. We also gave back our $20 to the church.
At first, I put the $10 with some of my money and bought pillows and pillow cases for the Refugee Resettlement Program. Then I decided to just pay for that myself and donate the $10 to the UMW World Thank Offering for Missions.
Purchased the featured food item for the month… for the Fredericksburg UMC Food Pantry. Since I lack the imagination of some of the other members of the congregation I took the 10% tithe and used it as a multiplier 10 x 10 = $100 to further the ministry of the church.
Donated water, juice, snacks to the Red Cross for the FUMC Blood Drive.
Gave it to someone as a tip for I believe she only makes minimum wage.
Given back to the church.
We are matching the money and will get at least four bags of food for the Food Pounding donation instead of the one bag we would have given.
Bought $20 of Macaroni and Cheese to help with the Fredericksburg UMC Food Bank.
We donated $20 plus our own contribution to the Service Source of Fairfax for support for the mentally and physically handicapped in Puerto Rico. They are not being cared for. They are in dire need.
Together with members of Contemporaries SS Class, we pooled our $10 to purchase 80 pairs of socks for Hope for Appalachia Hope Boxes.
We added $40 to the $10 and sent it to Smile Train that was running a triple your donation campaign to help children with cleft lips.
Helped someone pay for rent.
We are going to bake pumpkin bread and muffins for the November 11th Micah Dinner for each person to take with them in their to-go bags.
We will be preparing a Thanksgiving food basket to one of the less fortunate families at the school I work in. I am in the process of challenging the staff to provide at least 2 more baskets for other families.
We gave our $20 to the Prayer Shawl Ministry for yarn.
I multiplied it and purchased backpacks for Micah and coloring books for our homebound.
I matched the $10.
We multiplied the $10 to become 8 packs of diapers for Puerto Rico.
When I went to my auto repair shop I added $20 to the $10 – making $30 for the mechanic to reduce a repair bill for someone who needed help with their bill.
Made cookies and cake and took to people returning from the hospital or having a birthday.
Sunday School class joined forces and will do Wednesday night supper and give money to UMCOR.
We decided to shower our talents to unwed mothers with children. We purchased clothing for children at Mary Shelter.
Our family struggled with coming up with something. My little boy wanted to use our $20 (combined) to buy the church a dog. He said the Pastors could take turns taking care of it. We didn't do that! We are donating $10 to a pledge drive and the other $10 will be used as a tip for our first trip to the Community Café!
Purchased 50 buckets and lids for use as Flood Buckets for hurricane relief by UMCOR. Also sent donation to Hurricane relief in Puerto Rico.
I purchased five copies of the Virginia Advocate which had several stories of Virginia UM churches that had good programs to promote their church history and archives. Fredericksburg UMC was one of those churches. I hope more people will read the story.
Purchased a food gift certificate to give to a homeless man.
Donated to the church Fall Bazaar to buy supplies to make crafts to sell for the church.
Donated as start-up money for Sunday School class Spaghetti Dinner fundraiser in January with proceeds to go to UMCOR
Sent $25 to the Mountain View Fire Department.
Helped a homeless woman who need money to care for her children.
Multiplied my $20 times 10 ($200) and donated to the Go Fund Me Page for a family who lost their home.
I received one $10. With a lot of prayer, one became two and two became three. Quite a challenge but it works every time.
I used my $10 to put gas in my truck and deliver 71 flood buckets to UMCOR helping at least 150 people as a result.
I made dinner for our two neighbors who were just moving in and told them about Fredericksburg UMC. I am returning the $10 so you can use it to help someone else.
I gave a contribution to the Salvation Army to help someone with their heating bills. I am giving you back the $10 to help someone else.
I matched the $10, bought and delivered brownies and cookies for the doctors and staff at the Animal Hospital.
I saw boys from the football team collecting donations. I was happy to donate to the team and the nice young man. I feel good about our young people.
Our Sunday school class pooled $110 to buy Lego's and puzzles for the children at the Thurman Brisbane Shelter.
We tripled our $20 and delivered food to a bereaved family. We also attached a check to the church to double what we received.
I combined my $10 with spare change and purchased $50 of Fredericksburg bus tickets. I gave two women waiting at a bus stop some tickets and delivered others to the homeless shelter. They were very happy and grateful to receive them.
I donated to St. Jude's Children's Hospital. Every child needs a chance in life.
I matched this amount and donated to a summer lunch program for needy children through the Fredericksburg School system.
I sent the $20 to UMCOR to be used in Puerto Rico.
I added $10 to the Hospice Support Fund.
I matched my $10 and contributed to the United Way.
I doubled it and sent it to Fredericksburg Food Bank.
Given as an additional gratuity to a server in a local restaurant.
Added donation plus $10 went to Rappahannock Legal Services – as Jesus worked for justice.
Best Buddies at UMW pairs disabled people with students.
We added other funds and filled a flood bucket.
Purchased 14 Pairs of men's underwear and 20 pairs of sock for Micah Ministries.